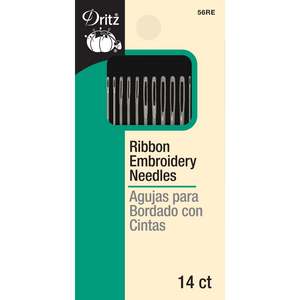 The Dritz Ribbon Embroidery Needles are ideal for ribbon embroidery on fabric or canvas. This needle assortment includes 2 – Beading Needles Size 10, 3 – Chenille Needles Size 20, 3 – Chenille Needles Size 18, 3 – Crewel Needles Size 8, and 3 – Tapestry Needles Size 24.
These needles work well for embroidery and adding embellishment to wearables or fabric

As a rule, select the type of needle for the type of project to be sewn and then choose the size of the needle for the weight of fabric and type of thread

The larger the needle size, the shorter and finer the needle
Quantity: 14 PC

Size: Assorted
Color: Nickel
Return Policy
Product can be returned but the package can not be opened or damaged. Customers are responsible for the postage of all return items unless an incorrect item or size was sent to its address ; Refunds and Exchanges must be within 2 weeks.
The RIBBON EMBROIDERY NEEDLES destined to impress, and priced at only $5.00, for a limited time.

Inventory Last Updated: Dec 02, 2023