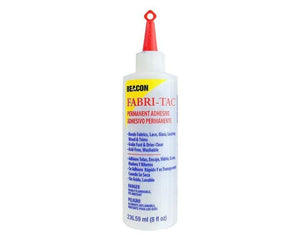 Beacon Fabri-Tac Permanent Adhesive is a permanent and washable adhesive that can bond fabric, wood, leather, lace, felt, pearls, plaster, trims, canvas, ribbons and more. Fabri-Tac will not stain or soak into fabrics, making it perfect for hems, seams and other clothing repairs. Prevents fraying and maintains its strength through countless washings. Fast grab, quick drying, and crystal clear. 
Sizes: Bottle 4 oz and Bottle 8 oz.
Color: Clear
Return Policy
Product can be returned but the package can not be opened or damaged. Customers are responsible for the postage of all return items unless an incorrect item or size was sent to its address ; Refunds and Exchanges must be within 2 weeks.
The FABRI-TAC Fabric Glue is evocative, to say the least, but that's why you're drawn to it in the first place.

Inventory Last Updated: Sep 28, 2023