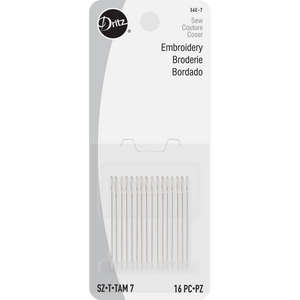 Use the Dritz Embroidery Hand Needles for your next sewing project. These hand needles can be used for cutwork, smocking, heirloom sewing and more. They are identical in thickness and length to sharps, but have longer eyes for convenient threading of multiple threads, pearls or floss.
Same as sharps with long eyes for general purpose sewing, embroidery and crewel

As a rule, select the type of needle for the type of project to be sewn and then choose the size of the needle for the weight of fabric and type of thread

The larger the needle size, the shorter and finer the needle
Quantity: 16 PC

Size: 7
Return Policy
Product can be returned but the package can not be opened or damaged. Customers are responsible for the postage of all return items unless an incorrect item or size was sent to its address ; Refunds and Exchanges must be within 2 weeks.
Imagine if you could be satisfied and content with your purchase. That can very much be your reality with the Embroidery Needles.

Inventory Last Updated: Dec 02, 2023