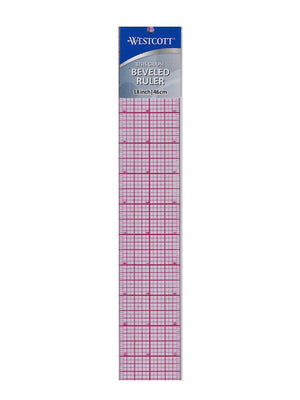 These handy 8ths graph rulers are transparent for visibility and beveled to accommodate work with ink. Edges are calibrated to 16ths to the inch with a zero centering scale down the middle. Laminated for durability. Contains a stainless steel strip on one edge to prevent nicking when using a knife or razor.
Quantity: 3 PC
Size: 18 inches (46 cm) 
Color: Transparent 
Return Policy
Product can be returned but the package can not be opened or damaged. Customers are responsible for the postage of all return items unless an incorrect item or size was sent to its address ; Refunds and Exchanges must be within 2 weeks.
Every product is unique, just like you. If you're looking for a product that fits the mold of your life, the Beveled Ruler 18 Inches is for you.

Inventory Last Updated: Sep 28, 2023