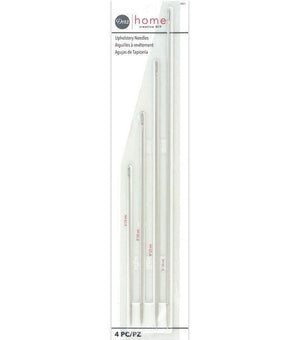 Dritz Home Long Straight Upholstery Hand Needles make it easier to tie springs to webbing, stitch edges and sew through padding. This pack features 10 and 12 inch needles to tuft, attach buttons and secure spring bottoms to webbing. These upholstery needles are available as 4 pieces in a single pack.
Use 6 and 8 inch for tying springs to webbing, sewing edges and stitching through padding

Use 10 and 12 inch for tufting, attaching buttons and anchoring spring bottoms to webbing

1 ct each size
Quantity: 4 PC
Color: Nickel
Return Policy
Product can be returned but the package can not be opened or damaged. Customers are responsible for the postage of all return items unless an incorrect item or size was sent to its address ; Refunds and Exchanges must be within 2 weeks.
The Upholstery Needles was built with people like you in mind. Something to keep you happy. Every. Single. Day.

Inventory Last Updated: Sep 28, 2023